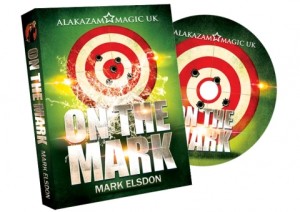 Mark Elsdon is well known for coming up with straight forward and powerful mental effects. Regular readers will know of my slight obsession with 'named card in wallet' effects (second only to – and in some strange ways parallel to my obsession with ACAAN effects!) – and I have used and enjoyed a good number over the years – from the venerable and devious Kolossal Killer (and its wonderful variation Heirloom) to Marc Oberon's 'somewhat blunt' but nonetheless effective Bang On. But in On the Mark I think I have found a new favourite.
The plot, of course, is familiar – the spectator names the only card in an envelope in your wallet. Presentational possibilities are various – but the suggested one works well. No real surprises here.
And the same could be said of method. You are not buying a radically new idea here. If you have been in magic any time at all you will likely be familiar with the various elements of the method. However, they work really well together! There is some good thinking here, and some subtleties which, in my mind at least, make this a stronger effect for the spectator than some of the alternatives. The method is straightforward, which means you can concentrate on selling it – which is the way I like it! I am fully expecting to put this into my 'working routine'.
A word on the supplied props. The wallet supplied is of a good quality and will readily slip into use as an every day wallet. You don't have to use this wallet – but it works well for the requirements. Can't say more than that. The envelopes are fine – and could be replaced if you preferred a different colour. I was a little disappointed with the quality of the cards – but not to such an extent that it would put me off using them.
The bottom line is I think this is a great little effect. If you like strong card magic with a mental leaning grab it's time to get On the Mark now!