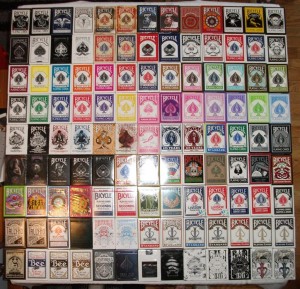 Do you want to increase your collection of new Bicycle Card designs? Do you want to get crazy deals on all the latest decks? Would you like to guarantee that 3 new decks will be dropping through your postbox each month? Then you need to check out our new Playing Card Club.
This is a playing card subscription service with options to subscribe for 1 month, 3 months, 6 months or 12 months.
You are guaranteed savings on the value of the cards and you also get some unique special offers and vouchers too. If you sign up before the end of November you will get a Bicycle Expert Deck, Bicycle Hemp Deck, Bicycle Guardians Deck plus a Bonus Pheonix Deck. If purchased seperatly they would be £20.31 with P&P. In our club you would pay only £15 (or less if you subcscribe for longer than 1 month) – so a guaranteed saving of at least £5.31.
Head over to MA Pro Magic to sign up for this exciting new scheme now.
NB Picture is just an illustration of a large collection of cards – and does not represent the cards available in this scheme…