The Family is a slightly difficult trick to review since it's not so much a trick as a set of cards which enable you to perform a range of effects. Let's talk about what you get and then what you can do with the set.
What's in the Family? The cards
You are supplied with a set of 5 special cards which have pictures of Victorian looking characters (family members – hence the name) on them. Without wanting to tip the method(s) these have special characteristics which open up a whole range of mentalism techniques to the performer.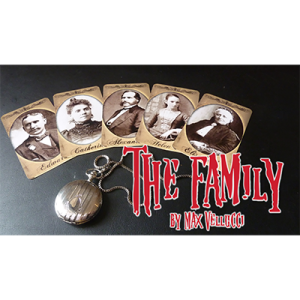 There's nothing new here in terms of principles, but the cards are nicely produced and conceal their secrets well. In addition to these 5 cards you get four extra cards which could be incorporated into other routines you might create (though curiously none of the supplied routines explicitly utilise them) – two with 'blood stains' on the back, one with a blood stained front and one with a 'zombified' version of one of the characters.
There is also an extra card which has details of how to access the instructions these need to be downloaded from a website in pdf format. Instructions are relatively minimal but do the job.
The cards come shrink wrapped in cellophane – and I found it very fiddly to get in to them without damaging the cards – though did eventually manage it. It might have been better if they had come in an envelope or something which could then have been incorporated into a routine. The cards are of a reasonable weight and feel like they will last for a while.
The routines
I was a little bit underwhelmed by these if I'm honest. They should probably be thought of as starting points not finishing points. I suspect that if you have a little experience with mentalism you'll easily adapt all sorts of existing routines for use with these cards which will then provide a nice hook or presentational ploy for them.
One of the routines requires some extra 'dressing' which you will need to provide and one of the stronger routines requires a whole extra set of cards. I do wonder whether, given the relatively low cost of printing cards, they could have provided enough cards for all the routines suggested.
The verdict
This is a hard one to call and I think a lot will depend on your style of performance and experience with mentalism effects. I quite like the 'vintage' feel of the props and think these kind of props can easily add interest to a performance. However, I feel like an absolute beginner might not get that much out of the routines provided. So it is a little difficult to give a firm recommendation. I suspect that if you perform this kind of material already you will be keen to grab a set (or two!) of these and get going with them. I could see myself working them into a longer more formal routine, but don't think they'll be coming out very regularly.
Available direct from Merchant of Magic for £21.50.
Review copy kindly provided by Murphys Magic to whom dealer enquiries should be directed.