Although these haven't officially hit the UK yet (official release date has shifted back a week to 9th August), my man at BBM slipped me a couple of decks to have a look at – what a gent! And I have to say I think they're gorgeous. Gold and dragons. Nice!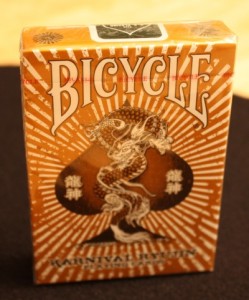 But I'm conflicted.
Let me come clean about a few things. I have had this nagging suspicion with some of the other Karnival decks that they might not appeal to every audience. This is probably a sign that I'm not cool enough – and I guess with any special design like this you are going to find some people who won't like it. But the dragon design on the Ryujins seems to me a bit more classy and more widely appealing.
On the other hand, the rather tastefully designed new Joker is not going to suit some people. It is elegantly done, and in no sense explicit, but it does feature nudity. So that will put some people off. Although it must be said that most of the magic I do with cards could be done without any Jokers in the pack – so you could always remove them if you were bothered by this.
The ace of spades is very striking with intertwined dragons and the rather classy gold ink used for the back design. You also get the apparently obligatory 'prediction' card ('you will choose the 5 of diamonds') – which I feel is rather spoiled by the advertising on the back of it. Rather nicer is the 9 of hearts 'spiked' under the sword of one of the Jokers. There's also a barcode reveal on the tuck case if you like that kind of thing. A matching blank-faced card is also supplied which is always useful.
The Ryujins are printed on regular USPCC stock and so handle as well as you would expect them to. There does seem to be quite a lot of 'border' on the back design, and on my deck these are slightly unbalanced leaving a pronounced 'one way' effect. I am not sure if this is intentional or is just a USPCC printing problem – you see it on normal Bicycle Decks from time to time. However, I don't think a layperson would notice.
Ed note: having checked with BBM – there is a subtle one-way effect in the actual design; the off-centre printing is a bonus!
Bottom line – this is a nice and visually striking deck which handles well. But pick your audience carefully…
BBM are still doing their pre-order deal (buy 3 or more decks and get a free Renegade chucked in) – head over to their pre-order page for more details.