When I first got wind of this new JK Hartman/Gordon Bean production I was very excited. After all, ACAAN is one of my favourite plots to think about and explore. Does that make me a sad man? Probably, but I'm ok with that. So I was delighted when our review copy dropped through the door.
The Externals
It's a nicely produced, slim (85 pages) black hardback number with elegant silver embossed writing on the front and spine and comes complete with a specially printed (Bicycle) card which you will use in one of the routines. The text is clear and of a good size, and Tony Dunn has made an excellent job of the illustrations.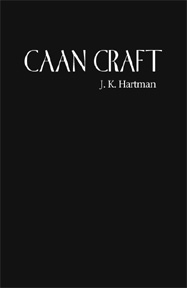 Variations on a theme…
If you've spent any time on this site, you will know that I love the process of creating and developing magic – and so for me one of the joys of this book is the organic way in which the different effects are linked together. It is like a worked exploration of how a clever card magician travels down an evolutionary path – with each effect representing a branch of the main stem – if you'll allow me to mix my metaphors. And the 'parent' of all of these is an unpublished idea by Tomas Blomberg.
At this point, it must be made clear, that we are not really in the territory of pure ACAAN. The seed-idea from Blomberg was to involve a second card (and number) in the process – which is a more or less obvious subterfuge in the different presentations.
Three of the routines require a stacked deck – and some calculation work. If you are really a lover of our art, this shouldn't put you off! All the routines require some sleight of hand – which is well explained in the text – and it is all within the scope of the majority of card magicians. I would hope that the sleights, and the 'journey' the book takes you on, would both lend power to your own creativity and stimulate further ideas on the theme.
The highlights
I don't intend to do a blow-by-blow analysis of each effect in the book. If you want that kind of detail I would recommend the more erudite review by David Britland from Genii magazine.
For me, my favourite effect is Caan Kicker – where a spectator follows a series of instructions on a (provided) printed card to reveal a named card at a chosen number. The 'move' is justified by the routine and it all seems very fair. It even explains how to make your own version of the necessary card in case you lose the one provided!
All in all, a book to enjoy. I agree with David Britland that the pure 'mentalist' would prefer a more hands off approach than the one detailed. But Caan Craft will stimulate the card magician, and will probably provide you with a routine or two to enjoy.
I am not aware of any UK stockist yet – but you can purchase direct from Gordon Bean for $35 + $10 international shipping.
UPDATE 5/2/11 – Now available in the UK from Merchant of Magic – CAAN Craft by J.K. Hartman – £22.50