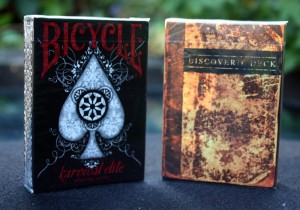 Today is the day the Karnival Elite and Discoverie Deck launch in the UK and so we thought we'd share a few pictures and thoughts in our review.
Both decks mark something of a departure for BigBlindMedia who have produced them (the Discoverie Deck in conjunction with Vanishing Inc).
Let's take them in turn.  The Discoverie Deck has a really intriguing theme.  It is based on one of the most significant books on magic in the English language – The Discoverie of Witchcraft by Reginald Scott.  Significant since in 1584 it was probably the first book on the subject in English.  The detail of each card face contains a reproduction of some of the text from the book.  And the tuckcase itself is meant to resemble the cover of the original volume.


It is certainly an attractive design with a fairly under-stated case.  I loved some of the detail.  There's a phrase from the book with a very wise warning (!) spread over the faces of the four aces. 
There are various graphical elements which are reproduced from the book.  There's a pleasing solidity to the court cards, and the effects of ageing have been carefully reproduced.


As with all the cards that seemed to be churned out at the moment they are printed by the USPCC and handle beautifully. They've been produced in a limited run so would make a great deck for collectors or magic enthusiasts.


The Karnival Elite Deck is a different kettle of fish entirely. Regular readers will know that I (uncool as I am) skulls are not my favourite thing – so I have enjoyed the Baroque styling and rather more understated look of this deck.
One of the most unusual features can be spotted as soon as you open the tuck case…
(and in case you missed it here is the spread out view)


There is an interloper in the pack! A seven of clubs from a regular Red Bicycle Deck has been placed face up in the centre of the deck. If you are any kind of magician you will be able to think of some jaw-dropping routines involving a sealed Elite deck and an impossible location. But if you plan to do the routine often you better stock up on cards since these are a limited edition run!
The only other extra card is an advertising card.
The Jokers have a rather fine Griffin on them and I haven't yet mentioned that the whole deck is an 'inverse' one – with an edge to edge black face. All the pips have white 'halos' which make them stand out from the face.
I enjoyed the big and bold aces (apologies for the absence of a picture of them all) and the discreet red detail on the back design.  All in all an attractive deck from the ever creative Sam Hayles.

Both decks are available direct from BigBlindMedia.
Discoverie Deck £4.99
Karnival Elite Deck £4.99