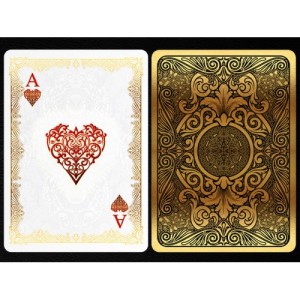 Here are a few of the new cards to hit the UK which have impressed us with their striking designs.
Bicycle Gold Playing Cards – a luxurious look in these gold metallic ink cards inspired by Renaissance designs – £7.99
Not strictly Bicycle, but we love the pastel colours on these limited edition TallyHos! Available in Red, Yellow, White, Orange and Lavendar at £8.99.
The Bicycle Porcelain Playing Cards are not yet in stock but will be coming in soon and are likely to go just as quickly – so you may only have a narrow window of opportunity to snap up these beautifully shaded porcelain inspired designs. £8.49
And if you intend to use any of these cards in action, rather than just adding them to your collection, you may want to consider a Card Guard.  Our friends at Merchant of Magic have got them in a variety of designs and colours from only £9.99.