In my final allusion to my travels in the USA, I thought I would show you the Bicycle cards I discovered in ordinary supermarkets.  As you will see, there are some that have made their way over here, but others that haven't.  And the best bit, they were all under $4 (less than £3).
Left of middle you see the Bicycle Peacock deck – one we've seen before in the UK but I think is very attractive.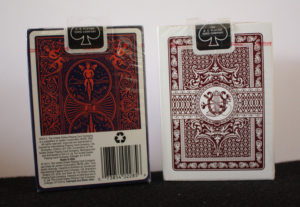 The red deck to the left of that is the Rhapsody deck.  This has a musical theme with a central panel showing a harp, a guitar a trumpet and possibly some panpipes?! It has a traditional, vaguely regal border.
On the far left is a standard rider back design, but in an unusual colour combination – dark blue background with orange highlights.  I believe this is either the Bicycle Coral or Indigo deck – but can't work out which is the dominant colour. These are available exclusively in WalMart stores – so if you're a card collector you know what you have to do!
The two to the right of the Peacock deck are very interesting.  They are two colourways of the Bicycle Autobike deck.  The original design is almost 110 years old.  It has a 4 winged feature in the centre of the back design and a sideways view of a bicycle (no angel or rider!) towards the top and bottom.  These come in green and brown, and again for the collector you need to know they are exclusively available in Target stores in the USA.
The far right deck probably looks like an ordinary Rider back, but it is in fact printed in black.  It came as part of a set of 4 decks – 2 each of red and black.  Various black versions of the deck have been available over the years, but the box for this does describe it as an exclusive!
There you have it  – a sampling of the cards I brought back with me.  I was also given a couple of decks of casino cards and, of course, brought back a normal brick of Bicycle cards too!
Let us know of any interesting recent additions to your collection…