I was very intrigued by Name Tag when I first saw it advertised and was keen to do this review. Other tricks have been done which utilise a name tag, but this felt like a great concept – and Jamie Grant would thoroughly approve (as you will know if you have read The Approach)!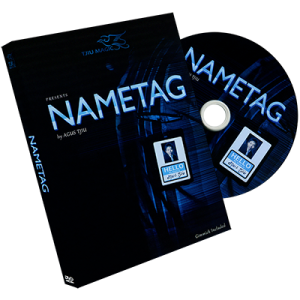 Name Tag is a sort of utility device hidden in plain sight and it allows you to do some clever predictions (predicting an ESP symbol or playing card chosen by a spectator) or some incredibly visual transformations of one card into another – visually a lot like WOW if you have seen that but with the potential for up to 5 changes.
What do you get
A nicely produced plastic name tag complete with clip and lanyard, several cards/inserts which you can insert into the tag – a couple printed up to look like a name tag on the back and a couple to look like Bicycle cards on the back.
You also get a DVD which is a little on the basic side. The visuals are fine, though not spectacular, but the audio is all in Chinese (I presume) meaning English speakers will have to rely on the somewhat quirky subtitles. This is not a problem – in that the operation of the effects is simple so the DVD is easy to follow – but it does mean you have to watch it carefully.
My bigger reservation about the DVD is that the menu has links to a couple of trailers and then all the explanation comes in one hit. So if you want to go back and look at a particular bit it is difficult. Now as I've mentioned, it is not a complicated effect to learn, so you probably won't need to do too much of that. But it wouldn't have been much harder to divide the explanation up into sections.
The good, the bad and the questionable
The gimmick is very clever, and all works well and as it should. There is a little bit of a knack to working this – but that would soon come with a little practise. It is extremely visual (if you do the change) and very clean (if you do the prediction).
A few minor quibbles would be the design for the name tag itself feels a little bit naff – I'm not sure it is quite the look I would want at a smart corporate do – though I'm sure it would pass muster. Also the whole tag feels just a little bit too big. I understand why the size is as it is – since it perfectly fits a Poker sized Bicycle card – but in my experience most real life name tags are a little smaller.
As is almost compulsory the advert states something along the lines of you're only limited by your imagination. Whilst this is almost true, in fact you need some cleverly printed cards to make this work well – so unless they start releasing variations, you are limited to ideas involving the 5 esp symbols or the cards provided.
I would also, and this is a very personal thing, like to have seen a few more credits in relation to the concept itself.
So all in all, this is a good release. I love the concept and the possible effects are excellent. My only question mark comes because the 'organic' nature of using something as natural as a name tag, is slightly undermined by the fact that it looks a bit too big and a bit too basic. But I am probably over-thinking this, so it is well worth a punt.
Available direct from MagicShop.co.uk £32.99 (at the time of writing).
(If you like this concept you might also want to check out Hello My Name Is – by the legendary Cameron Francis who's work is always worth a look – £19.99)
Review copy kindly provided by Murphys Magic to whom dealer enquiries should be directed.