I was fortunate to own an original Hideout Wallet around 10 years ago, so I was intrigued to see how it had fared under the Alakazam touch. Here are some highlights of my findings in this Hideout Wallet review.
The wallet
This is the 2nd of three re-releases of wallets originally put out by Outlaw Effects. As far as I can remember, this is made of nicer leather than the original – it's a beauty made to Tony Curtis' usual high standards. According to Alakazam it also has a few design tweaks – though from memory I can't see what they are.
The Hideout Wallet is styled as an ordinary bi-fold hip pocket wallet – a trifle on the large size for my own use as an everyday wallet, but perfect for its purpose. (Dimensions – approx. 120x104x14mm when folded and empty.) Depending on how you are using it and what you're loading in it, you may not want to use it as an 'everyday' wallet anyway.
As its name suggests, the original primary function of the wallet is for multiple outs. I got mine when I was in my first flush of enthusiasm over Kenton Knepper's classic Kolossal Killer. It has 20 slots which are big enough for poker sized playing cards plus a bill compartment and one further pocket which is almost the height of the whole wallet and would be good for larger predictions etc.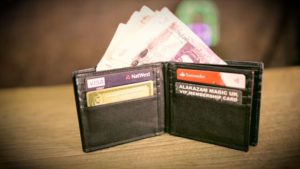 But this is only the start. It also has a clever magnetic feature which enables it to act as a switch wallet, and there is a concealed peek facility with a clever 'cloaking' facility which gives you even more cover.
The switch feature is very clever and enables an incredibly innocent handling where the spectator can actual handle the wallet themselves. You could actually use it rather like a Horwitz Wallet – and I'm going to be checking out my Horwitz books to get some ideas.
The routines
One of the things I was anticipating with the Alakazam re-release was some high quality routines – this is the sort of area they usually excel in. I was therefore a little underwhelmed with the DVD. It runs at around 33 minutes, introduces the wallet and then teaches you 3 effects. It is, as ever, very clearly shot and recorded, and the effects are all strong, but I would have like a little more.
On the Money – is a serial number revelation – where you borrow a note from the spectator and then can reveal the number. Clever, easy to do, strong effect.
ESP – is an ESP prediction. The spectator chooses one of 5 ESP cards – and this is the one you have already shown them to be predicted in the wallet. Again, this is fairly clear, though not ground breaking.
Spectator is the MindReader – this combines the wallet with a book test to enable not just you to read the spectator's mind but them to read yours. This is a great routine – well put together so that all the 'moves' are hidden in the blocking – but of course it also requires an additional book test to complete the effect.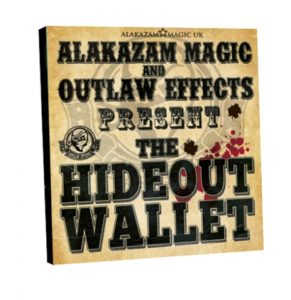 As I've already said, I was hoping for a little more than 3 effects, especially given the reasonable investment the purchaser has made for the wallet. This may be rectified in the future – since Alakazam you can register your product online at their website (it doesn't matter where you actually buy the item from) and they will give you access to new ideas and videos as they are produced. At the time of writing there aren't any extra routines up – but I presume more will be added before too long.
All that being said, it is such a versatile beast that you should be able to adapt other effects and come up with new ideas easily.
The verdict
I think this is a great wallet. Beautifully made with a great combination of features which enable some devastating mentalism, this would be a great investment for any magician or mentalist. I'm looking forward to setting it up for my latest favourite version of Kolossal Killer, and also to playing further with the switching feature. More than worth a peek…
The Hideout Wallet V2 is available from Merchant of Magic for £111.50 (at the time of writing)
Review copy kindly provided by Murphys Magic to whom dealer enquiries should be directed.