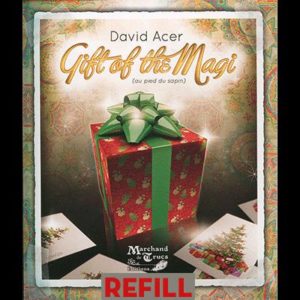 December is here and so we have some suggestions for Christmas magic ideas…
Gift of the Magi is a lovely Christmas themed effect where some presents appear at the bottom of a tree leaving a lovely souvenir. Suitable for adults and children – perhaps a nice strolling magic idea. £20.50
We're often asked for ideas for Christmas presents for new or young magicians. If you want a box of magic a little better quality than the ones you will find in the supermarket, the Legends of Magic Set from Fantasma Magic is well worth a look. It includes some fantastic tricks and comes complete with a DVD. £59.99.
If your budget is a little lower, we can also recommend the The Complete Magician Kit by Joshua Jay (£34.99) or the Secret Magic Set (which comes with a nice case!) £29.50.
A special deal which is probably only this week is the cute litte Santa Hat Paper Tear – where some torn up tissue paper turns into a little Santa Hat – 40% off this week at only £4.49.
And two final ideas to buy for your magic-loving partner. First a new DVD which might make a welcome break from the Christmas TV.
3 Secrets is the first DVD from a Japanese magician which sounds to have some great quality card magic on it. And it also has some secret features – so plenty to keep you occupied! £20.50
Alternatively, if, like me, you prefer to snuggle up with a new book over Christmas, then you will need a big lap for this one!  The Legendary Kabbala is a limited edition hardback book with over 200 close up magic effects, sleights and subtleties.  Be warned – you might not see your partner for some time…  £61.99
Back to our normal type of suggestions next month…