We have been doing so many reviews recently we haven't had time to feature many of the new Bicycle cards out recently – so I thought we'd start this month with a couple of them…
The Different Deck is possibly the most original deck I have seen in a LONG time.  The concept is simply – instead of having 5 clubs on the five of clubs, you have a club made up of fives.  Take a look at the picture (and follow the link for more) to see what I mean.  This looks wonderful and really appeals to my sense of quirk!  £10.99
More conventional in design, but striking and elegant, the Verana (summer) deck is the latest in the Seasons series from Alex Chin.  JP Playing cards have a very good price on this at only £10.99.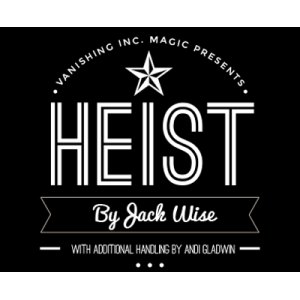 I really like the look of this updated take on Tommy Wonder's classic Ring, Watch, Wallet.  Heist is Jack Wise's streamlined presentation – well honed in many performances – and given the Vanishing Magic treatment which should guarantee good quality props and instruction.  A fantastic opening routine which would work in close up or 'parlour' setting.  Well worth a look. £79.49
So this next one's a bit of an investment, but Dani Da Ortiz has gained an enviable reputation in the magic world in recent years, and this new release looks to be full of good stuff.  The quality of these Luis de Matos DVDs has been consistently high (I'm just working my way through Bravura – which is also excellent) so you won't be disappointed.  Reloaded is all card magic – but not just the tricks, the psychology and all the pro tips – 4 DVDs worth (10 hours!) to keep you going.  £127.50
And I can't resist mentioning one more.  The trailer for The Ultimatum Deck looked really good to me and offered yet another version of the Card at Any Number plot plus a couple of other different routines.  And it promises to be easy to do.  What's not to like?  We haven't played with this ourselves yet, but Alakazam usually put out decent releases – so if this is your kind of thing I think it is worth a punt.  £25.99 [Update – we have now done a full review of the Ultimatum Deck]
That's all for now.  There are a number of effects  I would have like to include but we've got them coming up for review in the next few weeks – so didn't want to steal their thunder.  What would you most like us to review and why?