All our tricks are treats this month! Instead of plugging Halloween themed things, we're going to stick with strong close up magic and cards because we know that's what you love!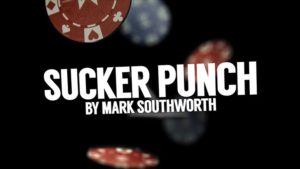 This was another month where the first recommendation was going to be easy. Sucker Punch is a fantastic set of gaffed poker chips which will allow you to perform a wide range of effects. Think of it as an easy way to get into coin magic – as this set reproduces many of the coin gaffs which make so many strong effects possible – but at a much cheaper price point. Many routines and moves are taught via video instructions. Poker seems increasingly popular in the UK so I think this is a no-brainer. £38.99.
Now, call me an old romantic, but it's hard to beat a classic magic text. And when you take a text that is as classic as Erdnase's Expert at the Card Table, and then re-print it in a gorgeous pocket sized edition you can have with you anywhere, then you've got a real delight on your hands. Gilt edges, chestnut brown faux-leather. What's not to like? £16.50
And, by the way, if you're in a nostalgic sort of a mood, why not treat yourself to Limited Edition Expert at the Card Table Deck. This is a gorgeous thing, with a side-opening tuck case matching the colour of the original release of the book, and loads of lovely detail. £14.99
Whilst we're on the subject of decks, here are another couple of releases that caught our eyes.
The Bicycle Old Parchment Playing Cards appeal to my love of aged looking cards. It's a pleasing back design, but I particularly like the designs of the court cards which are highly detailed and the intricate custom pips. £9.99
I'm not so fond of the design of the Alloy Amethyst Playing Cards, but if you're a collector they're certainly worth a look since they feature – apparently for the first time – iridescent foil on the backs of the cards (as well as on the tuck case). Also available in a Cobalt (Blue) edition or a Copper edition. £19.99
And finally, if you're looking to keep your deck in top-notch condition, you will probably want to get hold of a card clip. Dan and Dave have released a Classic Clip which is a beautiful example of style and simplicity. It is available in Silver or Black for £29.99.
That's all for this month.  Let us know if you've seen anything worth looking at…