I feel like I ought to start this review with an apology.  I've had these playing cards since May but pressure on time to do with moving house mean that I have only just got round to the review.  Normally this wouldn't matter – but I have a feeling that one of the decks may already be sold out!  My bad!  But let's move on with the review.  To get you in the mood I hope you appreciate the arty shot taken in North Wales.
Cherry Casino Playing Cards – Blue
These are the ones that have sold out I think.  If I'm completely honest I hadn't been expecting too much from them since the design hadn't grabbed me from the tuck case. But in fact, they were a pleasant surprise.
The tuck case is simple and none the worse for that. I'll confess that the 'casino' aspect feels slightly contrived. I know you get cherries on fruit machines at casino but that is really the only point of contact. The card stock felt a little on the thin side to me – but that did mean that they handled very easily.
A pleasant surprise on opening the deck was that they come stacked in Menemonica order. If you are a magician, this is potentially a massive advantage – to be able to open a new sealed deck and yet know exactly where every card is.
Another useful feature for magicians is that they come complete with a matching double-backed card and a blank faced card – two very useful gaff cards. The jokers are identical which is often useful for magic routines.
The Ace of Spades is good and bold – and regular readers will know I always favour a large centre pip on my aces!  Otherwise, they are standard USPCC faces – but in a nice little detail, the normal 'bright red' colour has been replaced with, of course, a cherry red.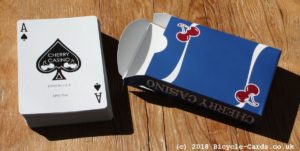 The Blue Cherry Playing Cards are a nice little deck.  But sadly very difficult to get hold of now!
(Unless you go for the new red version – which are available at MagicShop.co.uk for £10.99 at the time of writing.)
Mondrian Broadway Playing Cards
I really liked the intriguing arty style – of the Mondrian Broadway deck.  The design has been worked through in a very aesthetically pleasing way.  But although it is pleasing on the eye and perhaps of interest to art fans, it doesn't inherently lend itself to magic use (except perhaps cardistry) – so perhaps this is more one for the card collectors.
The tuck case is sophisticated and this is accentuated by a lovely detail of silver embossing  on the inside of the tuck case.
I loved the fabulous jokers – and the two different colours would make for a very pretty  colour change effect.  The Ace of Spades also ticks all my boxes with a bold and beautiful design.
The rest of the faces are normal USPCC design but they incorporate the cyan colour of the design as detailing on the court cards which is a nice touch. 
As with all the new decks in this review it includes a matching blank faced card and double backed card – both of which are useful for magic.  It handles very well and I think it is a visually super deck.  Time to come up with some art-inspired magic routines…
The Mondrian Broadway Deck is available at MagicShop.co.uk for £15.50 (at the time of writing).
Infinitas Deck
I'm a bit of a maths geek.  Infinity is a fascinating concept for me.  So the Infinitas Deck should have been an obvious hit.  But I'm afraid, in spite of the number of pictures I took, this deck didn't really do it for me.  Let me go in to some detail.
The tuck case itself doesn't give too much away.  In fact it played hard to get – as the only deck in this selection which had a deck seal on it.
Once we'd got inside thing remained minimal.  The jokers are nondescript.  I suppose you could put a positive spin on that and applaud their simplicity.  But they just didn't appeal.
Some hard work has obviously gone into the creation of the deck – and they have designed new pips for every suit.  However, I found them quite difficult to tell apart!  I found it interesting to note that the  court cards also incorporate small 'ordinary pips' in their design which helped me tell them apart!
The ace of spades has some boldness, but is not as pleasing as many I have seen.  In fact the 'spades' pip reminds me of a sword rather than bringing to mind ideas of infinity.
My favourite part of the design was the court cards.  These are stylised and interesting – and I like their 'cut out' feeling.  They have been freed from the borders which so often entrap our court cards and I think the result is very positive (see the gallery below).
The  back design is so minimal that when you fan the cards it looks like a blank deck!  In a spread, depending on the depth of the spread you will have a small bit of edge detail.
Like the other decks, the Infinitas deck comes with a double backed card and a blank faced card – so I suppose you could complete the illusion of the blank faced deck!  You've probably gathered, I think this is an OK deck, but I can't see myself using it.
You can pick up an Infinitas Deck from MagicShop.co.uk for £10.50 (at the time of writing).
Many thanks to Murphys Magic who provided the review decks and to whom dealer enquiries should be directed.